News in the Industry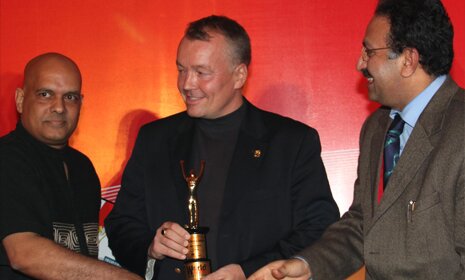 Tammisto wins Brand Leadership award
MobileMonday's Jari Tammisto has received an international Brand Leadership Award. Openness and internationalization of the MobileMonday movement were the merits that won Tammisto the award.

MobileMonday is an open community that brings together the mobile industry professionals in nearly 50 countries globally. The successful internationalization of the concept based on the open operating model brought the CEO Jari Tammisto the international Brand Leadership Award this year.

MobileMonday is a global open community that brings together decision makers, developers, researchers and funders of the mobile industry through monthly happenings, international summits, an online community, and a news service. Thanks to the openness that isin the heart of the MobileMonday operating model, mobile developers and influencers can adopt and modify the concept to develop the industry further and enhance collaboration among its various players on a local level.

Starting off five years ago, the same openness enabled the CEO Jari Tammisto to elevate the concept successfully from Finland to an international scene. Today MobileMonday operates actively nearly in 50 countries and 80 regions, including Argentina, Australia, Brazil, China, India, Japan, and the U.S. Says Jari Tammisto:

• I am delighted to see that our open operating model is recognized now as the hottest trend in brand building. Already five years ago we identified that as the most effective way to globalize our operations, and now companies, communities and universities throughout the world are exploring and analyzing our model and its applicability to various companies and industries.

The Brand Leadership Award was presented to Jari Tammisto in the annual World Brand Congress in Mumbai, India in the first week of November 2009. The award is the most important personal recognition granted in the congress, the congress organizers state. The decision upon a person receiving the award was made by a jury consisting of seasoned industry professionals. Criteria include person's merits, personal values, business ethics and a contribution to the development of the marketing industry.

Prior to Jari Tammisto the Brand Leadership Award has been presented to numerous marketing industry professionals ranging from Mohammad Al Mulla, Executive Director, Dubai Media City; Prof. Renee Mauborgne, author of "Blue Ocean Strategy"; Kevin Roberts, CEO Worldwide, Saatchi & Saatchi; to David Jones, Global CEO, Euro RSCG.